Hey, first of all, thanks for your interest in who we are and the ministry that we do. We appreciate you so much and hope our page is informative. If you want to know more we would be glad to talk with you via email, telephone, or over a cup of coffee.
I, Mark Yoho, am the founder and president of the Fourth Watch Evangelistic Ministry. I am also the most fortunate husband of Gynnette Yoho who married me because she felt it was the will of GOD. We feel extremely blessed to be living in the mountains of Northwest Georgia where the glory of GOD is always on display. We are thankful to be members of Grove Level Baptist Church in Dalton, Georgia, a church that prays for us, supports our ministry, and recommends us to you.
I love to share good news so let me share with you a little bit of my testimony. By the age of 33 I felt as though I had accomplished most of my dreams for life. As a veteran of the United States Army I began perusing the Great American Dream, you know money, power, and success. I had a family, very large home with a private lake, new cars and great income. But one day (or so it seemed) I lost everything that meant anything to me. You see I was a very evil man with no respect for GOD or man, why I didn't even have respect for myself, but GOD had a plan! Within a few months I found myself going to church reading the Bible and actually making attempts to talk with GOD. Then, at a point when I was emotionally broke and spiritually bankrupt I walked into Newtown Baptist Church in Calhoun GA. The Pastor, Reverend David Ray, preached a sermon simply titled "You Must Be Born Again." He had preached that sermon the previous week and wrestled with the HOLY SPIRIT in prayer that morning for permission to preach a different sermon. By the time he had finished the sermon I was so deeply convicted of my sin that I was shaking. Then when the pastor extended the invitation I realized that I needed to be born again. The fellow who had invited me to church was obviously not interested in going to the altar so I pushed him out into the aisle and went down to that altar where the pastor met me. It was there at that old fashion altar on March 29, 1998 that I repented of my sin, trusted JESUS as my Savoir, and surrendered my life to HIM. I was born again and my life has been forever changed!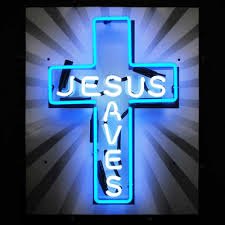 Oh, I have more good news. From that time I began praying for my wife and family. As a new Christian I was not well versed in the practice of prayer, so I prayed the best I could and as I grew in my Christian walk my prayer life grew. Every time that preacher gave the invitation I slid into that altar praying for my family. Then one day it happened, my wife actually called me, in a month or so another call, then finally I had an opportunity to talk with her face to face. I had no formal evangelism training, nor any coaching on what to say to her but I wanted her to hear about JESUS. So I shared my testimony, it was unrehearsed and unwritten, it was simply my story of what GOD had done for me. The following weekend she rededicated her life to CHRIST. GOD was doing something. Then fifteen months after our marriage separation GOD restored my marriage, family, and home. Why HE even gave me a better job and two dogs instead of one. GOD is so awesome.
But wait I have some more good news. From the time I was saved all I wanted to do was tell people about JESUS. I guess you are thinking, he must have been good at witnessing. Why shoot no I didn't have a clue what I was doing, but I just kept plugging away at in until I had lead my first person to CHRIST. Then I really had a fire in my bones to share the Gospel. This passion to be a witness for JESUS took me to family, friends, door to door, the streets, in jails and prisons, the workplace, and marketplace speaking of the great grace of GOD. Then one day I heard another message preached by Pastor David Ray titled, "Be Still and Know that I am GOD" and deep down in my heart I heard a still small voice calling me into the Gospel ministry. On that day, February 17, 2002, I answered the call to preach as an evangelist. The good news does not stop there. GOD began to build our ministry in faith, and experience until the call came down from Heaven for full time vocational evangelism. Then on December 1, 2007 we launched out into full time evangelism and missions as the Fourth Watch Evangelistic Ministry. It has been a journey of unsurpassable joy and unparalleled Spiritual growth. It has been a journey I would not trade for anything in this world. I love serving JESUS!!
To find out more about how we may serve you in ministry please be sure to visit the remainder of our web site. If you are interested in how our ministry may serve you as an evangelist or missionary please go to the site menu and click on Preaching the Gospel, Reaching the Lost, and Teaching Evangelism tabs.
If you are visiting our web site seeking how you can be born again, saved, and know JESUS as your Savior and LORD please go to the site menu and click on the Spiritual Help tab.
As we say here in Georgia, "Hope to see and hear from ya'all soon"